Neill Family Tree
Robert & Mary Neill of Tandragee
Home | Family Tree List | Neill Family Homepage | Contact Us

Robert Neill was a farmer of Ballymore. He was born in 1813 and lived near Tandragee, County Armagh, Northern Ireland. He married Mary Mains in 1830 and they had four, possibly five children. Robert died on 28 June 1876 and Mary had died prior to 1864 in which year deaths were formally registered. Jeremiah Neill reported Robert's death.

Ann Jane b. ? Christened 1834
Mary b. 1838 at Tandragee, County Armagh, N Ireland.
m. William Davison b. Tandragee 1830
d. 3 Sept 1924 at Weedons, New Zealand and buried in Templeton Cemetary
Emigrated to New Zealand on the 'Mersey' of 812 tons arriving in New Zealand on 11 June 1861
Thomas b. 1840 at Tandragee, County Armagh, N Ireland.
m. Janet Richardson b. 15 Nov 1859 at Bathwell, Larnarkshire, Scotland
d. 22 Aug 1929 at Westport, New Zealand and buried at Orowaiti Cemetary, Westport
Emigrated to South Australia in 1858 and onward to New Zealand in 1861.
Jeremiah b. ?
William b. 1843 d. 18 Feb 1865 (this death was reported by Jeremiah Neill)

Very little is known about Robert and Mary. It's interesting to note that on son Thomas Neill's death certificate, his mother is named as Margaret but that information would have been provided after his death by someone else. However, strong justification for this is that Thomas Neill's only daughter was named Margaret (after his Mother possibly???).

Neill is a common name in Tandragee with several Neill headstones in the St Marks Church Cemetary and on the town War Memorial. There is also mention of the Neill name as leasing or owning land in the area in the Library at Tandragee.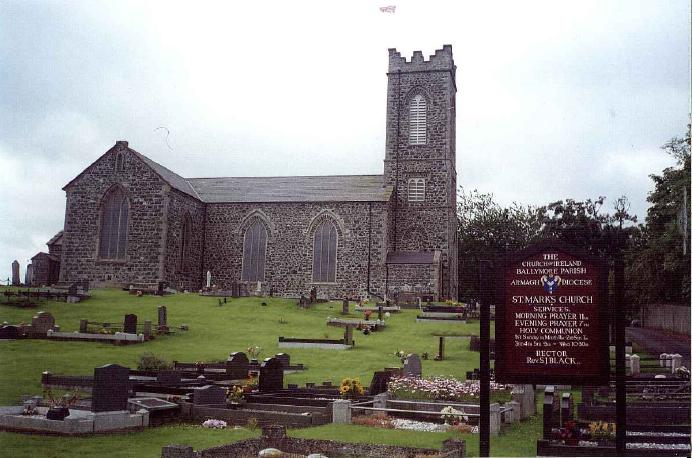 St Marks Church, Tandragee