Thomas Neill was born in 1840 at Tandragee, County Armagh in Northern Ireland. In 1858 at the age of 18 he emigrated to South Australia where he worked on a farm before moving on to Melbourne to do masonary work. When the Otago Gold Rush broke out, he left for New Zealand and landed in Dunedin in 1861. He immediately went to Gabriel's Gully, the scene of the Gold Rush. He worked on various other fields in Otago, including the Dunstan, Maori Gully, Millars Flat and the Shotover. He then went up to the Wakamarina in Marlborough but did not strike anything good so returned to Dunedin. In 1865, he came to the West Coast, packing his way over Arthurs Pass and having a very hard struggle, crossing the rivers , travelling over rough tracks. He worked in Hokitika, Okarito further down the Coast and also at Brighton and Charleston. He landed in Westport near the close of 1866, at the Rush at Caledonian Terrace. Finding the gold elusive, he returned to Charleston and, while he was there, the Addison's Rush broke out at Addison's Flat. He managed to get a Prospecting Claim close to where the gold was originally found. Thomas remained at Addison's being a party in one of the big sluicing claims. He was for a time, a member of the Buller County Council. Sometime after the turn of the century, he and his wife Janet, took up residence in Westport, where they lived until their respective deaths. (the above was extracted from the Obituary for Mr Thomas Neill published at the time of his death in 1929)

Although Thomas left Ireland in 1858, before his Sister Mary emigrated, it looks as though he arrived in New Zealand after she and her family arrived here. However, with Mary in Christchurch and Thomas in Dunedin, it is probable that they did not meet for some time, years in fact. Thomas spent many years as a single man working in the goldfields but on 2 Oct 1879, when he was 39, he married Janet Richardson at Cape Foulwind near Westport. Janet was born on 15 Nov 1859 at Bathwell, Lanark, in Lanarkshire, Scotland and was 19 years younger than her husband. She was the daughter of William Richardson and Margaret Whyte Johnston but was living in New Zealand with Mr Fitzroy Montague Smith and his wife, possibly as their adopted daughter. Fitzroy tended the lighthouse at Cape Foulwind from 1 Mar 1877 through to 15 Jun 1882. The couple settled at Addisons Flat in their own house and raised five children. They were:

Thomas b. 31 Jan 1882 at Addisons Flat d. 14 Nov 1941 at Buller Hospital, buried 16 Nov at Orowaiti Cemetary
Robert Fitzroy (Bob) b. 17 Oct 1883 at Addisons Flat d. 31 May 1966 at Buller Hospital. Buried 2 Jun at Orowaiti Cemetary, Westport.
Alexander William (Alex) b. 29 Jan 1886 at Addisons Flat d. 4 Mar 1960 at Lower Hutt Hospital. Buried 7 Mar at Orowaiti Cemetary.
George Smith b. 13 Mar 1888 d. 9 Feb 1962 at Public Hospital, Nelson. Buried 12 Feb at Orowaiti Cemetary.
Margaret Lucy (Maggie) b. 5 Feb 1894 d. 13 Dec 1961 at Christchurch. Buried at Orowaiti Cemetary.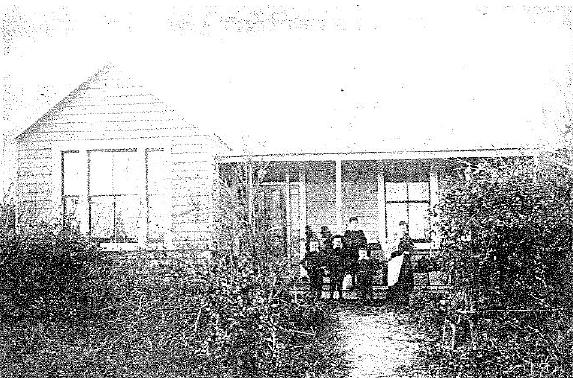 Neill House at Addisons Flat about 1894

Thomas and Janet Neill raised their family at Addisons Flat, deriving their income from the Rise and Shine Company gold claim. There is a map of the Addisons area showing several Neill and Party claims at the Coaltown Museum in Westport. The claim was composed of shingle with 16 - 17 feet of washdirt and varying depths of stripping. The 1901 Census shows 208 people still living at Addisons.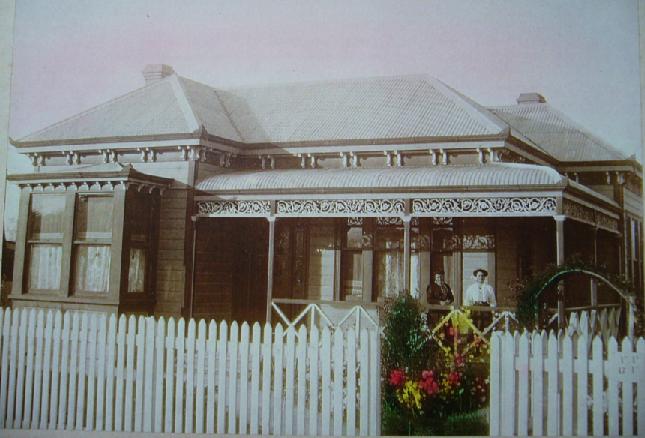 Neill house in Westport

Around 1908 the Neill's moved to a house at 243 Palmerston Street in Westport and Bob took over the house at Addisons, while the gold claim was still worked from time to time by various members of the family. Maggie moved to Westport and in later years, looked after her ageing parents. Janet died at age 65 on 12 Oct 1923 at her house in Palmerston Street, Westport and was buried at Orowaiti Cemetary two days later. Thomas died 6 years later, on 22 August 1929 at age 89 and is buried with his wife Janet at Orowaiti. Their only daughter Maggie, who cared for them so well in their later years, is buried with them.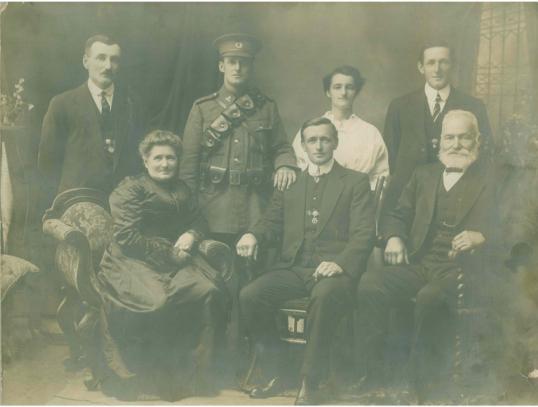 Neill Family taken about 1914
From left to right - Thomas, Janet, George, Alex, Maggie, Bob, Thomas (Snr)